Project Profile
Project Consulting Services,® Inc.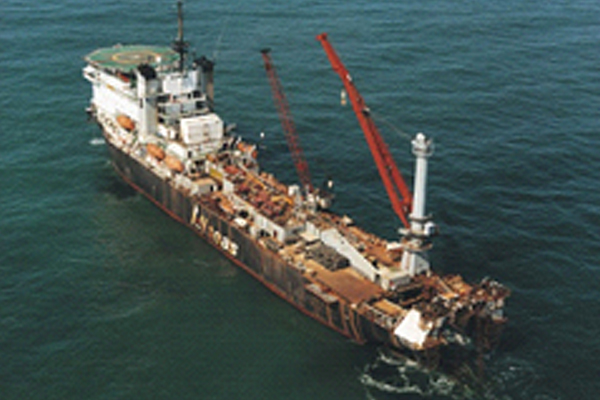 Green Canyon 209 Pipeline System
Expansion of Discover Pipeline System into Deepwater Gulf of Mexico
The Phase II expansion, the Green Canyon 209 Pipeline System, extended the Discovery Pipeline System further offshore into the deepwater Gulf of Mexico area. The Green Canyon 209 Pipeline system consists of a 12-inch and a 16-inch diameter gas export pipeline originating at the 3,285 foot water depth at British Borneo's "Seastar" tension leg platform (TLP) in the Green Canyon Block 254 Allegheny field. The 12-inch diameter pipeline departs from the production facility in the form of a steel catenary riser. After touchdown on the Gulf floor, the pipeline continues to a location in Green Canyon Block 209. At this point, a pipeline end skid (PLES) is installed on the 12-inch diameter pipeline.
A similar pipeline end skid with a connection for a future pipeline tie-in is installed on the 16-inch Green Canyon 209 pipeline and the two pipelines are jumper connected subsea. The 16-inch diameter pipeline runs north 26.7 miles to a tie-in point on the 30-inch mainline north of the Ewing Bank Block 873 "A" platform. A jumper spool containing a check valve and side-tap for another future connection ties the 16-inch Green Canyon 209 Pipeline System into the 30-inch Discovery mainline.
PCS Scope of Work
Project Consulting Services, Inc. (PCS) provided complete design engineering, permitting, inspection, construction management, materials sourcing, expediting and C.A.T.S. (Construction Automated Tracking System) traceability services to the Discovery Partnership for this project. The full scope of work included all pipelines and pipeline conversions, launchers, risers, metering, instrumentation and corrosion protection for the pipeline system.
More Information
Contact Us
We would appreciate any opportunity to assist you, and to connect you with the right person at PCS ® to address your needs and answer any questions.
Request Info
Call Us
1-800-643-8306