Project Profile
Project Consulting Services,® Inc.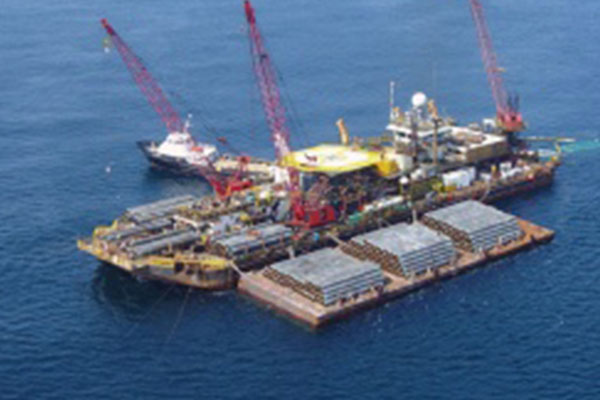 Details
Location:
Massachusetts Bay
---
Massachusetts Bay 30-inch Pipeline
HubLine Pipeline
The HubLine Pipeline Project is a 30-inch diameter offshore pipeline approximately 29 miles in length constructed in the environmentally sensitive waters of Massachusetts Bay. The pipeline extends from Beverly, Massachusetts to Weymouth, Massachusetts.
The installation of the HubLine Pipeline Project involved a variety of construction techniques and methodologies never before performed in this area of the Atlantic Ocean. These included Horizontal Directional Drilling (land-to-water and water-to-water drills predominantly through bedrock to protect sensitive near-shore areas), shallow water construction utilizing spud moored vessels, and offshore construction utilizing anchor moored vessels. Burial of the pipeline was also accomplished by multiple construction techniques including bucket dredging, rock blasting, plowing, jetting, backfill plowing, and rock and sand cover placement.
PCS SCOPE OF WORK
Project Consulting Services®, Inc. (PCS) was called upon for its knowledge and experience related to offshore pipeline construction. PCS supported the project by providing:
Design and construction engineering
Contract management
Construction management
Inspection services
PCS provided these services throughout the federal, state and local permitting process and the design, planning and construction phases of the project.
More Information
Contact Us
We would appreciate any opportunity to assist you, and to connect you with the right person at PCS ® to address your needs and answer any questions.
Request Info
Call Us
1-800-643-8306